Sunday morning, I wanted to make something a little different than our usual breakfast tacos and I have this great cookbook...The Cast Iron Skillet Cookbook...that I have browsed through, but yet to make something. In it is a recipe for an upside down pear-ginger cake. I didn't have pears so I tried it with peaches. Let's just say it would be so awesome with pears or even apples. While making it I very much felt like my Grandma Norma because I don't think I have ever seen her use a measuring cup when she bakes and I did a little bit of a dash of this and a pinch of that adding to it.
Warm Peach-Ginger Upside-Down Cake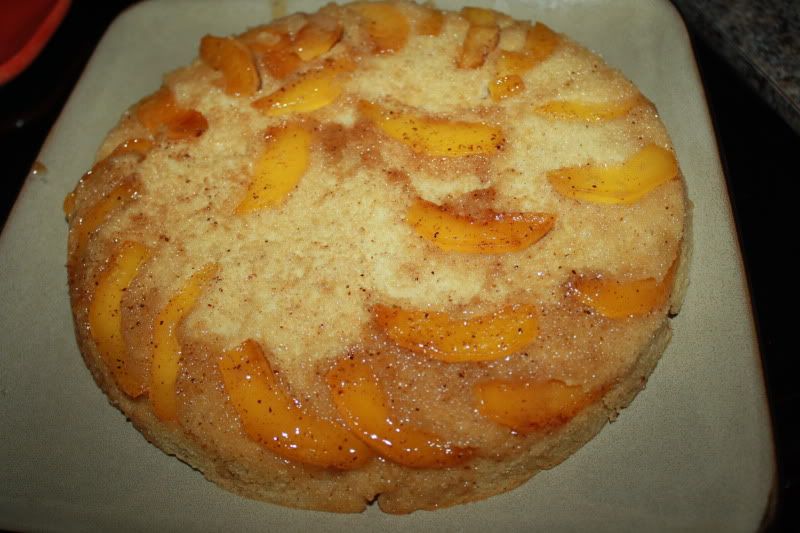 Ingredients:
1 stick unsalted butter, at room temperature, divided
3/4 cup sugar, divided
3 peaches, peeled, cored, and cut into fours, then cut each of the fours into three slices
2 TBSP minced candied ginger (I used the ground stuff in my spice cabinet)
1/4 tsp freshly grated nutmeg (again used ground our of my spice cabinet)
1 cup flour
2 tsp baking powder
1/4 tsp salt
1/3 cup medium-ground yellow cornmeal (didn't have any of this so just added 1/4 cup more flour)
1/2 cup boiling water (didn't use since I didn't have cornmeal)
2 large eggs
1 tsp vanilla extract
1/2 cup whole milk
Directions:
Melt 2 TBSP of the butter in a 10" cast iron skillet over medium heat. Add 1/4 cup of the sugar, stir just enough to combine, and cook without disturbing until the sugar dissolves and starts to turn golden brown (carmelize), about 5 minutes.
Beginning with the outside edge and working your way toward the center in a circular pattern, arrange the peach (or pear, apple, plum, etc) slices on top of the caramelized sugar. Sprinkle the ginger and nutmeg over the top (I added some cinnamon as well).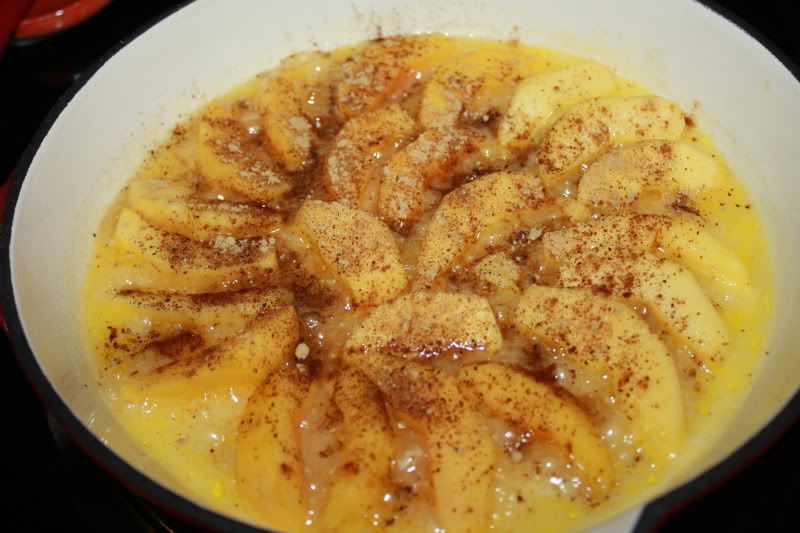 Cook until the pears are soft and the caramel starts to thicken. about 5 minutes more. Remove from heat and set aside.
In a small bowl mix together flour, baking powder, and salt (I added about 1 tsp of the ginger, nutmeg, and cinnamon to this).
Place the cornmeal in a large bowl, add the boiling water and stir to blend. Add the remaining 6 TBSP of butter and remaining 1/2 cup sugar to the cornmeal mixture until well blended. Beat in the eggs and vanilla.
Mix the flour mixture into the cornmeal mixture a little at a time, alternating it with the milk, make sure you don't overmix it.
Pour the batter over the peaches in the skillet.
Transfer the skillet to the oven and bake at 350 F until the top starts to brown and the center of the cake feels firm and springs back when pressed, 18-20 minutes.
Let the cake cool for 5 minutes. Place an inverted plate on top of the skillet and flip. Replace any fruit that may have stuck to the skillet.
Serve warm or at room temperature and ENJOY!!!