I have been following
The Kings Court IV
blog for a while and have decided to join Christi in her Wednesday cooking posts since I have been trying to add new recipes for others to try out.
Today's recipe is a Taco Bake. I kid you not...this actually ended up tasting very much like enchiladas, even my Mexico born and raised husband said so, so you know they tasted good. Plus, my picky toddler gobbled up his portion.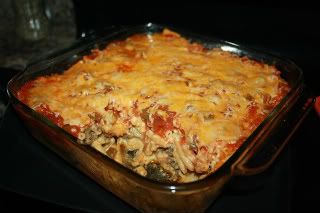 1 box of Mac and Cheese
1 lb ground beef
2 TBSP taco seasoning
3/4 cup water
3/4 cup sour cream
1 1/2 cup shredded cheese
1 cup salsa
Preheat oven to 400F.
Prepare Mac and Cheese as directed on the box.
While macaroni is cooking, brown meat and drain.
Add taco seasoning and water to the meat and let simmer for 5 minutes
Stir sour cream into prepared mac and cheese.
Spoon half of the mac and cheese mix into a 8" square baking dish, top with the meat mixture, 1 cup of the shredded cheese, and then the remaining mac and cheese mix.
Cover with aluminum foil and bake for 15 minutes.
Top with Salsa and remaining 1/2 cup cheese and bake uncovered for another 5 minutes or until cheese is melted.
Prep Time:
15 minutes
Total Time:
35 minutes