I am starting this blog to be about the family as a whole and what is going on with all of us. I will still update
Joshua's website
with things going on with Joshua. This will be about our house, our new land (forever referred to as the farm from here on out), and what is going on with all of us collectively. This may end up being a once a week update blog, but it will be fun none-the-less.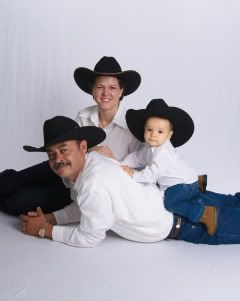 This is all of us in October 2009
Raul and I were married on November 28, 2003. Five years later we had our first child together Joshua Tyler...he was born on November 21, 2008.
We just sold our home of six and a half years, eight days after putting it on the market. We purchased 5.61 acres in a town called Elgin, just east of Austin, TX. We are currently in the process of building a home, but in the meantime we will be residing in a 5th wheel on the land.