We are in the Texas Wildfires area right now. Our home is
not
currently threatened at all by the Bastrop fire. I have done some simple preparing. I've grabbed our really important documents...birth certificates, marriage license, passports, and Raul's citizenship paperwork. I have my FreeAgent drive in the diaper bag as well. I know I would love to grab more...fill my car for that "just in case" moment, but I can't bring myself to. Besides, if I am out and about and start heading home and find that we can't come back home I know I have the most important things in the car with me...my boys. EVERYTHING else can be replaced and what can't will always be a memory for me. I am not so attached to my items that I would risk my life or the lives of my boys to save them.
Below is a news broadcast from this morning of the fire closest to our house...again...we are not in danger of this fire. But Bastrop is where I had all of my doctor appointments when pregnant with Matthew. It is where we go for Lowe's and Home Depot. Thankfully, there have been no loss of life because people are heading the warnings to evacuate, NOW!!!
These pictures are from our local news station...KXAN...All I can think is...if I saw this barreling down on me there would be no hesitation and I certainly wouldn't be driving toward it.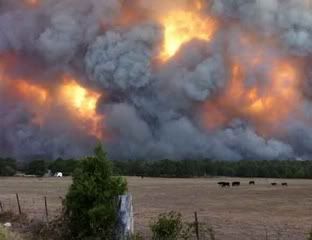 If our situation changes at all I will have my cell phone with me at all times and will call/text my family to let them know our situation. In the meantime, my heart goes out to all the families that have lost everything in these fires.